FANTASTIC FLOUNDER ROLLS, Kosher Parve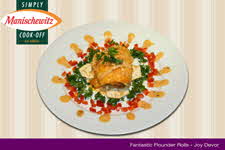 Joy Devor, Simply Manischewitz Cook-Off Grand Prize Winner

Ingredients
• 4 long fillets fresh sole
• 1 container (10 oz.) fresh sliced button mushrooms
• 2 Spanish onions, chopped
• 2 – 3 tbsp. Manischewitz extra virgin olive oil
• 1 box Manischewitz Everything Tam Tams
• 1/3 cup corn flake crumbs
• 2 bottles Thousand Island dressing
• Salt
• Pepper

Garnish
• Curly parsley
• Red pepper

Directions
1. Preheat oven to 350. Sautee onions in oil until soft and translucent. Add mushrooms and continue to sauté until mushrooms are nicely browned. Season to taste with salt and pepper.

2. Crush Tam Tams lightly and add to mushroom onion mixture continuing to crush tams until they're in very small pieces.

3. Take a piece of fish, spread a generous tablespoon of Tam Tam mixture in center of fillet and roll like a jelly roll. Place in greased baking sheet seam side down. Continue with each fillet.

4. Liberally pour Thousand Island dressing over fish.

5. Sprinkle corn flake crumbs over fish.

6. Bake for 20-25 minutes until cooked through. Garnish with curly parsley and red pepper. Serve warm or cold.

Recipe courtesy of Manischewitz