May 18, 2001 Culinary Crossword
NOTE: PRINT page to work on puzzle. A link to the solution is below.
CLICK HERE to return to Previous Page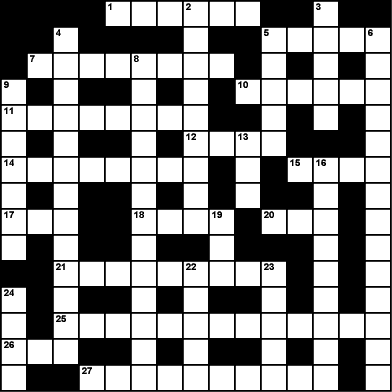 Across

1. Citrus fruit
5. Fresh
7. Refurbish
10. A liqueur made with a brandy base flavored with a variety of fruits and bitter almond.
11. Turnip cabbage
12. A meal eaten by service personnel
14. Sweetened beverage of diluted lemon juice
15. A city of northwest Italy southeast of Turin noted for its sparkling wines.
17. Soft-finned fish
18. Sweet edible fruit of a palm with a single long woody seed
20. Dish baked in pastry-lined pan often with a pastry top
21. Plant whose succulent young shoots are cooked and eaten as a vegetable
25. A wooden board where meats or vegetables can be cut
26. Leaves sometimes used for flavoring fruit or claret cup but should be used with great caution: can cause irritation like poison ivy
27. Beef, lamb or pork cooked for a long time in liquid


Down

2. A source of nourishment
3. Supply food ready to eat; for parties and banquets
4. Milk thickened with a butter and flour roux
5. Wet feed (especially for pigs) consisting of mostly kitchen waste mixed with water or skimmed or sour milk
6. Used to tie a bird before cooking
8. Veau and jambon baked in pastry lined pan with a pastry top
9. Frying pan
13. Most highly proteinaceous vegetable crop known
16. A square flat stainless steel instrument with handle used for flattening cutlets
19. Easter ___
22. Native to Egypt but cultivated widely for its aromatic seeds and the oil from them used medicinally and as a flavoring in cookery
23. A rich short cookies similar to shortbread.
24. A utensil with two or more prongs, used for eating or serving food.

Solution
---
Copyright © 2001, James T. Ehler.