BLACKENED SWORDFISH STEAKS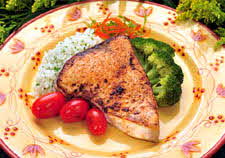 Yield: 4 servings
Ingredients
• 1½ teaspoons dried thyme
• 1½ teaspoons dried marjoram
• 1½ teaspoons dried oregano
• 1½ teaspoons cayenne pepper
• 2 teaspoons salt
• 1 teaspoon black pepper, freshly ground
• 1/4 cup olive oil
• 4 6-ounce Florida swordfish steaks, 1½ inches thick, skin removed

Preparation
Combine the herbs, cayenne, salt, and pepper in a medium mixing bowl.

Heat an iron skillet over high heat 5 to 10 minutes until very hot.

While pan is heating, brush the steaks on both sides with olive oil; pat herb mixture onto both sides of each steak.

Place the steaks in the pan over high heat; cook for about 2 minutes. Turn steaks and cook for 2 to 6 minutes more, depending on thickness.

(*Note: May substitute commercially prepared blackening seasoning for spice mixture.)
Nutritional Value Per Serving
Calories 332, Calories From Fat 183, Total Fat 21g, Saturated Fat 4g, Trans Fatty Acid 0, Cholesterol 66mg, Total Carbohydrates 1g, Protein 34g, Omega 3 Fatty Acid 1.43g

Recipe and photo: Florida Department of Agriculture and Consumer Services