AURUM - THE ULTIMATE CELEBRATION
A collaboration between Harmony Gold Mining Company and the prestigious Cabrière Estate, in the Franschhoek Valley of the Cape, brings you the ultimate celebratory drink.
AURUM Brut is a glittering combination of 24 carat gold flakes dancing in the bubbles of delicious Pierre Jourdan Cap Classique. It is an irresistible temptation!

HARMONY
With an annualised production in excess of 4 million ounces of gold, Harmony is one of the world's top gold producers and the largest producer in South Africa.
Harmony is the only South African gold mining company with its own dedicated refinery and gold fabrication plants. Harmony Pure Gold™ is gold of South African origin, produced and manufactured to the highest quality standards, and guaranteed by modern production and laboratory facilities.

Sourced from mines from up to 2 500 meters deep, and extracted from rock formed more than 3 billion years ago, Harmony Pure Gold™ is the finest gold from the African continent.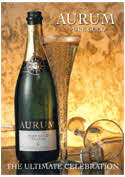 GOLD IS HEALTHY
The Chinese dined on gold 6,000 years ago, the Aztecs used to drink liquid gold and the Egyptians covered themselves in it for restorative purposes. Today, gold is being used for much of the same.
Gold leaf or flakes are used now more frequently on many dishes in fashionable restaurants. It is being used for taste, for decoration and for it's healing properties. The 'metallics' present in gold assists in increasing the metabolism and helps to absorb vitamins in the body. Whether eating it or wearing it – gold is deliciously luxurious and good for you too!

CABRIERE ESTATE
Where Great Wines are Grown Today, the proprietor Achim von Arnim, continues the pioneering spirit by specialising in Cap Classique sparkling wines. In the tradition of the Champagne he replanted the vineyards with the classic cultivars Chardonnay and Pinot Noir in 1982 and named his range of methode champenoise wines after the founder, Pierre Jourdan. Achim von Arnim's decades old belief is that wine is grown, not made.

ACHIM VON ARNIM
Home of Pierre Jourdan and Haute Cabrière wines, the beautiful Cabrière Estate, situated on the banks of the Franschhoek river, was granted to the French Huguenot refugee farmer Pierre Jourdan on the 22 December 1694.

AURUM BRUT
This hand-crafted wine is carefully created by Achim von Arnim. Quality is critical for Achim, and this expression of a precious metal from our rich land infused into a premium cuvée from the Southern tip of Africa, is unique in every way. The essence of Achim's wine-growing philosophy is proclaimed on a pillar carrying a sundial in the vineyards: "Sun, Soil, Vine, Man". This mantra simply expresses the critical balance necessary of all four elements in producing a harmonious wine. These elements combined with Harmony Pure Gold™ have created a very special wine AURUM Brut.

SERVING SUGGESTION
To enjoy the full effect of the gold flakes in suspension, it is advisable to drink Aurum within five minutes of pouring. For more information on this product or for a list of stockists, please contact:
In South Africa
WINE DIRECT
Tel: +27 (0)11 315 3088
Fax: +27 (0)11 315 3098
e-mail: [email protected]