Kona Po' Boy Recipe
$1,000 Finalist (Hot Sandwich) Virginia Suddathy
Mezzetta America's Best Sandwich Recipe Contest
Sandwich Recipe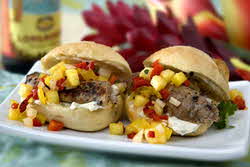 Kona Po' Boy
Interview with Virginia Suddathy
Recipe Category: Hot
Prep Time: 15 minutes
Total Time: 15 minutes
Servings: 4
Sandwich ingredients:
• Ginger-Chili Aioli:
• 1/2 cup mayonnaise
• 1 tsp Kona Coast® Brand Ginger Chili Pepper Sauce
• 1 tsp chopped fresh cilantro
Pineapple-Pepper Relish:
• 1 1/2 cups fresh pineapple, finely chopped
• 1/2 cup sweet onion (such as Maui or Vidalia), finely chopped
• 1/2 cup Mezzetta® Brand Deli Sliced Mild Pepper Rings
• 1/2 cup Mezzetta® Brand Deli Sliced Roasted Sweet Bell Pepper Strips, chopped
• 1 tsp rice wine vinegar (unseasoned)
• 1 tsp fresh thyme, finely chopped
• 1/2 tsp salt
• 1/4 tsp pepper

• 4 fully-cooked chicken apple sausages
• 2 Tbsp Mezzetta® Brand Extra Virgin Italian Olive Oil
• 4 soft sandwich rolls
• 2 Tbsp dark rum
• 4 sprigs cilantro, for garnish


Directions:
1. Preheat oven to 400ºF degrees. Mix together mayonnaise, Kona Coast Ginger Chile Sauce, and chopped cilantro. Set aside.

2. Toss together pineapple, onion, Pepper Rings, Roasted Bell Pepper Strips, rice wine vinegar, thyme, salt and pepper. Set aside.

3. Slice sausages so they lay flat and pan fry them in Extra Virgin Olive Oil over medium heat, turning once, until heated through and nicely browned (about 8-10 minutes).

4. While sausage is cooking, open sandwich rolls and place on a baking sheet. Heat in oven on low. Broil until just beginning to brown. Spread the rolls on both sides with aioli mixture and lay one sausage on each roll.

Add pineapple-pepper mixture and rum to same skillet and sauté, scraping up brown bits, about 1 minute. Top sausage rolls with relish and serve, garnished with cilantro sprigs.

Special suggestion from Virginia: Serve with Maui-style potato chips and a Long Board Island Lager® from Kona Brewing Company. Listen to the waves roll in.