My Banh Mi Chick Recipe
$1,000 Finalist (Cold Sandwich) Peter Halferty
Mezzetta America's Best Sandwich Recipe Contest
Sandwich Recipe: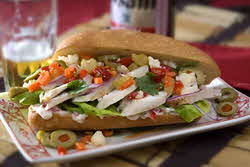 My Banh Mi Chick
Interview with Peter Halferty

Recipe Category: Cold
Prep Time: 15 minutes
Total Time: 15 minutes
Servings: 4

Ingredients:
• 2 cups Mezzetta® Brand California Hot Mix Vegetables, chopped
• 3 Tbsp liquid from Hot Mix Vegetables
• 1 Tbsp sugar
• 1 large French baguette
• 2 Tbsp Mezzetta® Brand Extra Virgin Italian Olive Oil
• 1 Tbsp Asian fish sauce (Nam Pla) - optional
• 1 tsp soy sauce
• 3 Tbsp diced Mezzetta® Brand Garlic Stuffed Olives, roughly chopped
• 1/2 red onion, cut into 1/4-inch rings
• 3/4 cup packed cilantro sprigs
• 2 cooked chicken breasts from a rotisserie chicken, thinly sliced
• 3 Tbsp mayonnaise
• 2 Pieces Mezzetta® Brand Deli Sliced Roasted Sweet Bell Pepper Strips
• Lettuce leaves


Directions:
1. Heat oven to 350ºF with rack in middle. Spoon out 2 cups California Hot Mix Vegetables. Pour 3 tablespoons liquid from the jar in a medium bowl and whisk in the sugar. Combine Hot Mix Vegetables with the marinade, stir and let sit for 10-15 minutes.

2. Meanwhile, heat baguette on rack in oven until crusty, about 5 minutes. Cut off and discard round ends, then split baguette.

3. Mix together Extra Virgin Olive Oil, fish sauce, and soy sauce and brush on cut sides of bread. Drain the marinated vegetables. In a separate bowl, dice the pepper strips, add to the mayonnaise and stir.

4. To assemble the sandwich, spread a layer of the mayonnaise mixture on to the bottom of the bread, top the sandwich bottom with Garlic Stuffed Olives, sliced onion, and cilantro. Arrange the chicken, marinated vegetables and lettuce on top. Cut the sandwich crosswise into fourths.