Open-Faced Wine Braised Fig and Caramelized Onion Sandwich Recipe
$25,000 Grand Prize Winner: Ninette Holbrook
Mezzetta America's Best Sandwich Recipe Contest
Sandwich Recipe: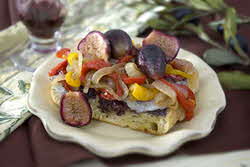 Open-Faced Wine Braised Fig and Caramelized Onion
Interview with Ninette Holbrook
Recipe Category: Vegetarian
Prep Time: 30 minutes
Total Time: 40 minutes
Servings: 4


Ingredients:
• 2 medium sweet yellow onions
• 3 Tbsp Mezzetta® Brand Extra Virgin Italian Olive Oil
• 1/2 tsp sea salt
• 1/2 tsp fresh cracked pepper
• 1 tsp chopped fresh thyme
• 1 tsp granulated sugar
• 1 cup Mezzetta® Brand Marinated Sweet Roasted Yellow and Red Sweet Peppers, sliced
• 3 Tbsp Fig Balsamic Vinegar (or regular Balsamic if you can't find Fig)
• 16-18 fresh black mission figs, (or dry if fresh is not available)
• 1 cup of semi-sweet white wine
• 1 cup Mezzetta® Brand Pitted Calamata Olives
• 1/4 cup honey
• 1/4 cup Mezzetta® Brand Extra Virgin Italian Olive Oil
• 4 ounces shaved Manchego Cheese
• 1 large loaf Ciabatta bread
• 1/2 cup melted butter
• Chopped parsley for garnish


Directions:
1. To prepare the caramelized onions, slice each onion in half and slice into 1/8 of inch slices. Pour Extra Virgin Olive Oil in a large sauté pan and add in onions, salt, pepper, thyme and sugar. Cook onions over medium-high heat for about 18-20 minutes or until onions are golden brown. Add in the Roasted Yellow and Red Sweet Peppers and fig balsamic vinegar, remove from heat.

2. Prepare the figs by cutting off the stem end and cutting the fig in half and place cut side down in a sauté pan with the wine, simmer on low to medium-low heat until wine is reduced by 2/3; remove from heat.

3. Combine the Calamata olives, honey and oil in blender, set aside.

4. Turn the oven to broil. Cut bread into 4 equal parts and cut each part in half horizontally. Brush the cut sides of the bread with the butter and arrange on a foil lined baking sheet. Place under the broiler for about 2 minutes or until bread is lightly toasted.

5. Once bread is toasted remove from the oven and put an equal amount of olive honey spread, an equal amount of caramelized onion/pepper mixture, an equal amount of fig halves and the shaved Manchego cheese. Place back under the broiler to melt the cheese.

6. To serve, place two slices of the open faced sandwich on each plate, sprinkle with chopped parsley as a garnish.